Italian hard
and a bit yellow

John Bantin has been
a full-time professional
diving writer and underwater
photographer since 1990.
He makes around 300 dives
each year testing diving equipment.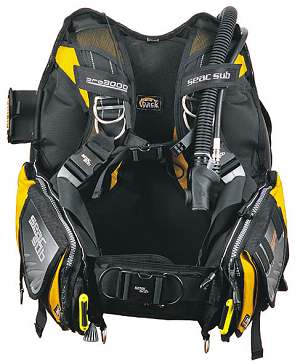 There was a time when BCs were commonly called "stab jackets" and the foreign-made ones were flimsy pretenders to the British-made heavyweight crown.
Dive shops in Britain stocked only British-made stab jackets. There was no point in stocking any others, because new divers came in from their BSAC branches with strict instructions from their training officers as to what to buy.
They certainly had no intention of being laughed at, back at their clubs, with anything thought flimsy.
Times change. New divers take advice as always, but the advice now comes from many different quarters, and so does diving equipment. Seacsub BCs such as the Pro 2000 have become deservedly popular within the British diving scene. They come from Italy, and there is nothing flimsy about them.
The latest model, the Pro 3000, is made from a mixture of materials ranging from 420 denier nylon for the inner buoyancy bag and 1000 denier for the outer layer, which is Cordura, to a massive 1500 denier Cordura for the harness. It looks unbreakable.
I thought the Pro 2000 was excellent when I tried it, and it was tough too. It was full of new ideas. It won Innovation of the Year in that year's Diver Awards. Now many of its innovations can be considered normal. The Pro 3000 is a further development.
One of those innovations was the way you could alter the Pro 2000's trim from a horizontal wing-effect while swimming under water to a vertical armchair-effect when waiting at the surface.
This is effected by slackening off a strap and buckle hidden on either side within the pockets, to allow air into the front part of the BC.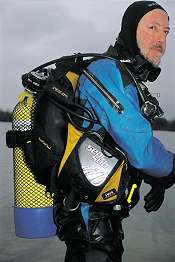 You can do the same with the Pro 3000. The maximum buoyancy available with the newer BC is said to be 25kg, which is 6kg more than the manufacturer claims for the Pro 2000.
Another idea was to make the strong parachute-style harness independent of the buoyancy chamber, and that again is the same with the Pro 3000.
I tested the harness of the Pro 2000 by tying myself off in the roaring flow of an Aldabra channel while several other divers, not equipped with reef-hooks, clung to me. It easily and repeatedly withstood the pressure. The harness has six big D-rings.
Apart from the two capacious zipped pockets, there are two other pockets closed by pinch-clips that will concertina out to take, for example, a spare mask and a delayed SMB.
There is a retractable karabiner and line ahead of one pocket, which is probably intended for use with a slate or some other lightweight item. I found that it clipped to my Suunto pressure gauge and kept it from dangling, but it was easy to pull the gauge forward to read when required.
A nice idea taken from the Seacsub Pro Tech, another sibling, is the elasticised hose-holder, which is an ideal way to stow a long octopus hose. However, you must be sure that the second stage is face up or it will free-flow when you hit the water.
There is also a double crotch-strap that stows away behind the backpack cushion if you don't need it, and a knife-holder attached to one of the pockets. A Jon-line is stowed away, too. If you don't know what a Jon-line is, you clearly haven't needed to clip off to shotlines while decompressing in rough water.
There are all the usual dump valves, one at the top of the corrugated hose, operated by pulling down on the direct-feed control, and one at the opposite shoulder, worked by a toggle threaded through the shoulder strap.
A rear bottom dump is operated by a toggle and cord which is threaded through to the lower front of the BC near the release-toggles for the integrated-weight pouches.
I was disappointed by these weight-pouches, only because the current trend is to abandon the idea that such items can be secured by Velcro alone. Many other manufacturers are now adding clips and straps or other means of stopping weights being dropped by accident.
In line with most new BCs, there are capacious trim-weight pockets at the back and these come in very handy when using the lightweight aluminium tanks commonly supplied at dive centres worldwide. Overall, you can put up to 8kg of lead in the front and up to an additional 4kg at the back, and I found this useful with a steel tank and a drysuit.
The whole thing can be carried by means of a handle, and it needs it. It weighs a ton! But then, the cam-buckle on the camband is unusually massive and you use the handle to lift the BC straight as you do it up.
One lighter point is this BC's use of some colour, yellow, in the more normal scuba-diving world of sombre black. The Seacsub Pro 3000 is one tough Italian.
Available in a range of sizes from XXS to XXL, the Seacsub Pro 3000 costs £449.


+ Extremely strong

- Weighs a lot
Lęs mere om Seac Subs 2003 BC-udvalg